Motivational Speaker/Coach Goal Achievement Strategist
Pat Council
"Do Life with Power"
Pat Council's goal is to help you meet yours.  She inspires organizations, teams, and individuals to embrace their magnificence and confidently achieve their goals using interaction and proven achievement strategies.
Pat's energetic, enthusiastic, entertaining delivery style makes her winning strategies memorable.
Excellent Leadership Training, Personal Development Wisdom, and Superior Sales Training.
Certified Life and Sales Coach, Pat Council is dedicated to inspiring others to "Do Life with Power"™ which is all about choosing a course of excellence that delivers personal results and never playing small.
"Thank you very much Pat Council you have truly inspired and changed my life!!! Since meeting you my mindset has never been the same." Shakeya Lovett-Honor, President Black Nurses Rock Bradenton Chapter
"Playing small will not benefit you or anyone else.  It's not how we are built.  To win you must embrace and unleash your magnificent self!  You must every challenge with the power and grace of a champion. The world is waiting for you to put your gifts and talents on display, it benefits us all.  Pat looks forward to tailoring presentations to meet the needs of your mission or program.  This includes teams, corporations, organizations and faith-based organizations.  She will help you establish loyalty, teamwork, excellence and confidence needed to produce results.
Pat will make your event memorable.  Participants will leave ready to use the easy to implement, actionable steps.  She has an amazing track record for getting results (see testimonials).  She is avalable for keynotes, leadership training, employee inspiration, sales training and interactive workshops.  Pat has strategic plans that will inspire anyone or any group to shine with magnificence. Her ability to inspire groups to use their creativity abilities to provide solutions, create intentional goals is astounding and inspires participants.
The Power Achiever's Manual Coming!
Are you ready to take the guess work out of goal achievement?  There is more to goal achievement than setting S.M.A.R.T. goals.  Stay focused and intentionally achieve your goals, whether professional or personal. Discover the power of an achievement covenant, crush fear,  evaluate your progress by creating milestones that inspire you. Get the goal achievement guide you can carry all year long and achieve as you go.  Position yourself to earn your dream life!  Available November 2018. Get details on how to get a FREE copy, when available. Click here!     
Pat is a keynote speaker,  author, podcast host, certified life and certified sales coach.  She is the owner of  Power Up Nation, Inc, a company that helps others discover their magnificence and power to achieve their goals. She is also an Army Veteran and a graduate of the University of Maryland.  She owned a top producing real estate company.  Trained new sales members, that became top producers within their first few months in business.  She is committed to excellence. Discover more about Pat's magnificent journey and how she will help you with yours. (See about Pat)
Pat Provides Winning Strategies
She provides actionable achievement strategies and sound wisdom that gets results, increase productivity and profits without unnecessary stress.  She provides solutions that create follow through and flow.  Her fun, interactive workshops are filled with step by step strategies that keep participants engaged and inspires them to act.
Make Your Conference or Training Event Magnificent and Memorable with Pat
"Pat lent her outstanding business and marketing talents to EBS Security Inc. I believe she is an excellent fit for any event or company."  Printella Bankhead, Owner EBS Security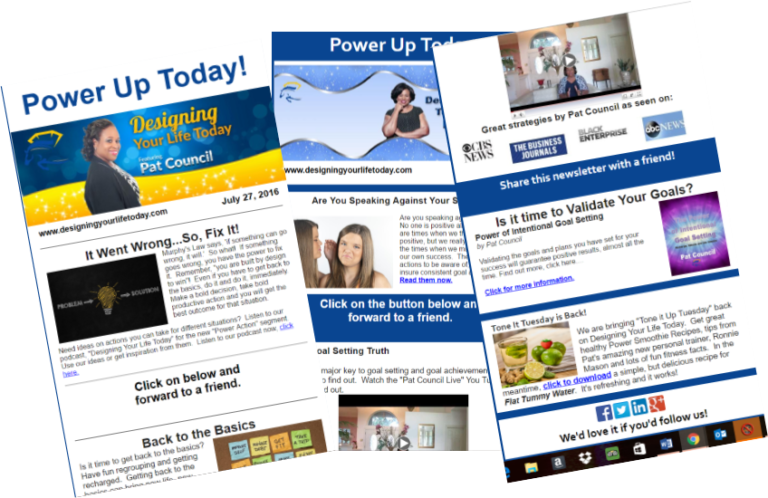 Subscribe free and get actionable goal achievement strategies.  Achieve like the top 8 percent. Click on photo to join.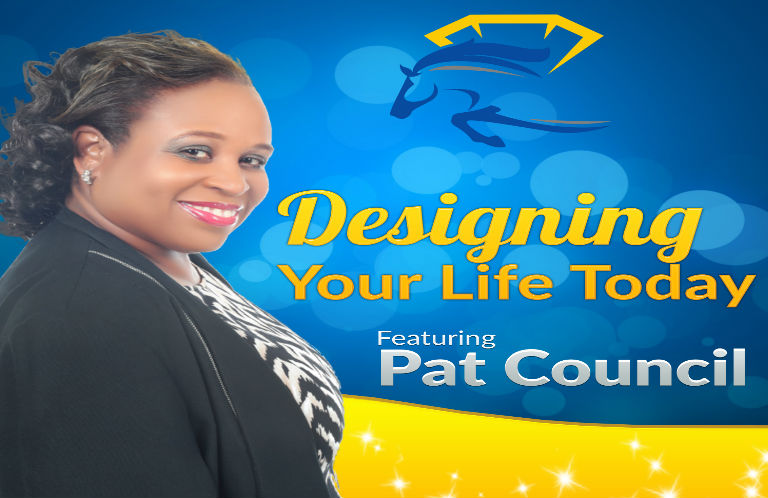 Listen to Designing Your Life Today featuring Pat Council.  Get simple strategies for achieving goals and be inspired to unleash your magnificence. Click on photo to listen.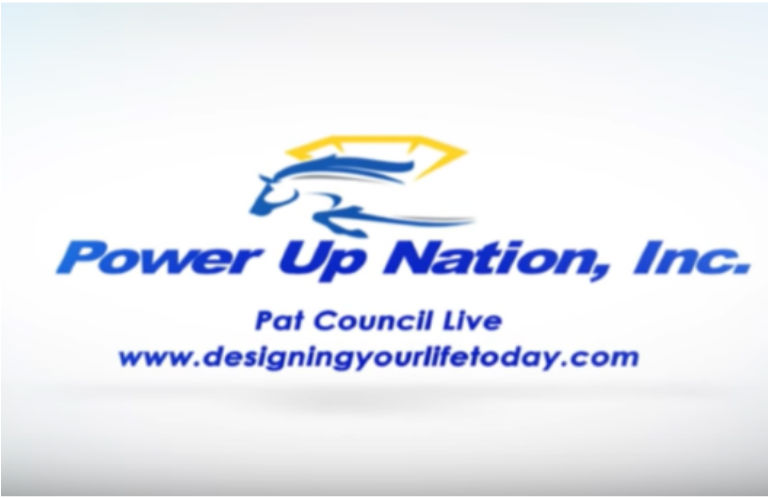 Get ideas and inspiration for achieving as you listen to "Pat Council Live" on You Tube.  Enjoy Pat's stories that are filled with success lessons, listen to podcast episodes and more. Click on photo to start watching.