"Hi, I am Pat Council"
"As a Goal Achievement Strategist, My Goal is to Help You Achieve Yours"!
Meet Pat
Speaker, Author, Podcaster, Entrepreneur, Goal Achievement Strategist, Certified Life and Business Coach
Pat Council works with individuals, groups or organizations to set effective goals and to develop an actionable, energetic strategy which inspires them to stay consistent and achieve their business and personal goals.  This may include the areas of personal growth, monetization, accountability, marketing, sales an effective communication.
Pat goes above and beyond to share strategies that inspire results in all her interactive presentations.  Her charismatic, light-hearted presentations makes it easier for participants to receive and remember concepts of success.  She is an experienced Certified Life and Business Coach shares strategies for effective communication, overcoming goal achievement obstacles, marketing, and sales.  She also has a knack for inspiring self-confidence in workshop participants.   Pat believes part of good sales is knowing how to provide quality customer service.  Whether giving a motivating keynote, presenting in a breakout session or conducting workshops, participants always walk away with inspiration that sparks ideas and action that leads to desire results.  Pat is passionate about sharing  personal growth, communication and skillful strategies that helps leaders and their teams create a more cohesive culture that gets the job done.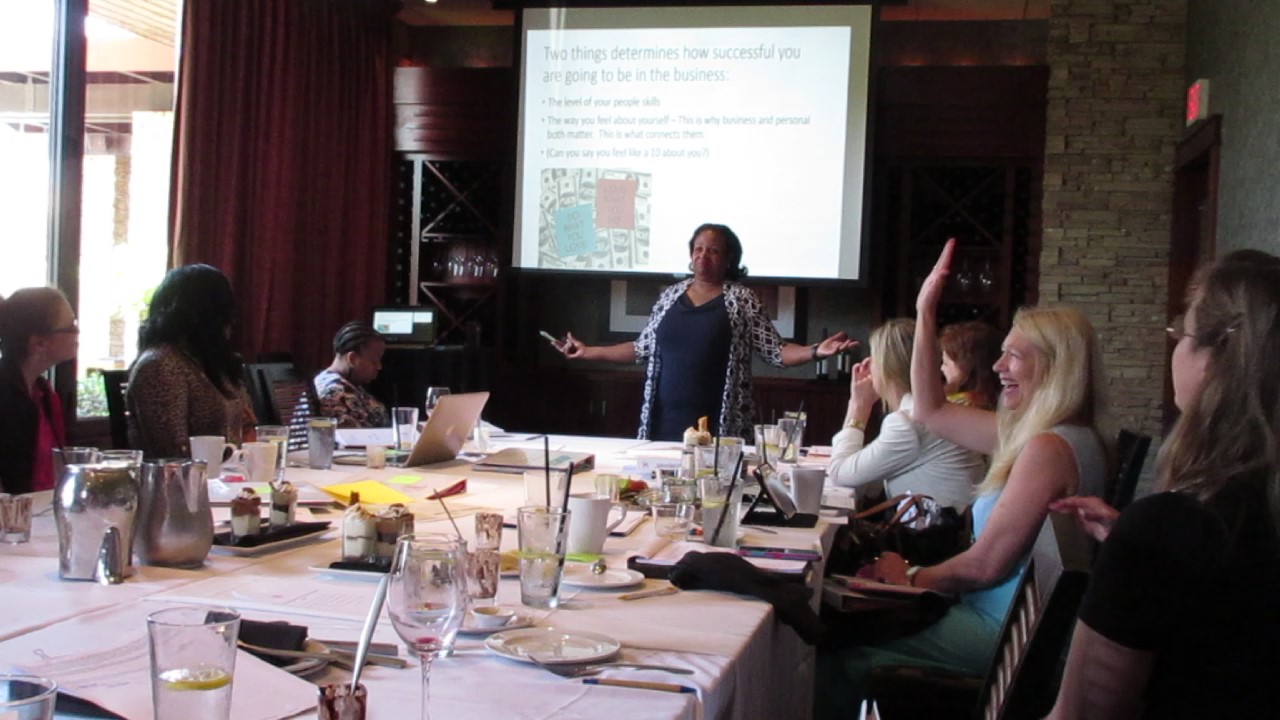 What Pat Teaches
Because of Pat's experience, she has successfully coached in different areas.  Through a series of questions, she is able to assess situations and make the recommendations that will help facillitate results:
helping teams communicate effectively with each other, customers and upper management
How to set energetic, effective goals and achieve them
Keys to adopting the mindset needed to achieve goals and grow personally
Paths to rebuilding, transitioning or leveling up successfully
Monetizing a passion or talent
Generating more revenues in business through sales
Hire Pat Because…
She can relate to many different audiences.  She is also passionate and committed to helping corporations, associations, small business owners and individuals make the connections needed to achieve their goals.  She creates the best presentations to fit her clients objectives.  Her goal is to help her clients get the best possible results.  Once she understands her client's needs, Pat  customizes her presentations to engage and educate any audience.
"Pat is an amazing trainer.  Her training was fun, she gave my sales staff a confidence boost and some great sales techniques.  She was able to answer every question and she helped them feel more comfortable with selling.  She even added some techniques to help them focus better, which I enjoyed learning, also.  Pat delivered, more than promised and more than I expected."  George Barnes, Owner – George Barnes Realty.   
Get to Know More about Pat…
Pat served in the military, working as an administrative assistant and later as a performer in the US Army Band.  She has worked in upper management and she paid her way through college.  After entering real estate she developed a passion for business.  This lead to Pat building a multi-million dollar real estate company along with a well trained administrative and sales staff.  After the real estate crash in 2007, Pat started a podcast (now very popular), which led to the start of her personal development company.
Impactful and Entertaining Stories
Pat uses impactful stories, yet simple techniques that are not only memorable, but easy to implement.  She doesn't just quote the success of others, she shares real experiences to illustrate actionable steps for achievement.
Easy to Work With and Reliable
Things can happen during an event. Pat's flexibility makes her easy to work with and  because she is solution-oriented she is always eager to help.  No one can predict the future, but Pat is a reliable speaker who shows up early and eager to perform with excellence.

You're Training is Awesome, Thanks
"Pat, Thank you so much. I can't tell you how much I appreciate you taking the time to talk with me about some ways I can improve. I'm sure you'll be happy to hear I was actually able to go out Saturday and land another location with the new sales technique you explained to me…with your advice I have much more to build on and feel so much more natural speaking with people.
Our 20 minute conversation we had was one of the biggest steps in the right direction I've taken since entering into entrepreneurship. Thank you again for helping me." Eric Megargel, Naval Officer, Ret. and Entrepreneur
Your Training is Amazing
""You are truly amazing! I was absolutely floored by the information you provided to my organization. They were truly excited and wanted to know when we were going to schedule the next session.  Some of them made sales the same day".  Kay Poole, President, VTEC
Small Business Conference
"Personable, entertaining and engaging."  "Energetic and engaging speaker."  "Great use of humor to cover content." "Super knowledgeable."  Comments from participants (Actual Evaluations Available on Request). 
Black Nurses Rock
Women's Business Owners (WBO)
University of NorthFlorida Veteran's Center
Mary Kay Cosmetics, Florida
Humana Insurance Company
Northeast Florida Assoc. of Realtors
Nurses Association
Church's Chicken Enterprise
Joint Heirs Christian Center
Raymond James Financial Services Mario Payne
Morris College – South Carolina
Worksource – Jacksonville
African-American Chamber – Jacksonville, Fl.
Edwards Waters College
Tru-Way Church of the Risen Christ
George Barnes Realty
Forward Christian Center
Urban League – Jacksonville, Florida
For Our Sisters Conference
Urban Bankers of America
Minority Supplier Development Council
Bell South
Florida State College of Jacksonville
National Association of Real Estate Brokers
African-American Women on Tour
Delta Sorority Chapter – Sumter, SC
Jacksonville Women's Business Center
Small Business Administration (SBA)
Contact Information
Contact Pat directly to discuss ways to make your achievement journey, event or conference a success.